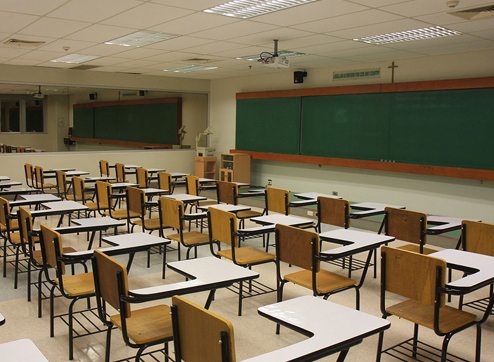 Enter Now to Win a New Classroom
Haskell wants to help k-12 schools and universities – the teachers and administrators that make life better for their students and the students who work so hard to succeed. Now through October 6th, visitors to the contest entry page can nominate their classroom for Haskell's Incredible Classroom Makeover Contest. Visitors (teachers, administrators, students, parents) just upload a photo of their current classroom. Haskell will review all entries and choose ten schools as finalists.
Then, Haskell will load the 10 finalists on to a page where anyone can vote for and share their favorite classroom. The classroom that gets the most votes wins a complete classroom furniture makeover including Ethos Chairs (link), sit to stand desks and furniture for the teacher. Second place gets a x credit towards classroom furniture.
Submissions are now being accepted at www.haskelloffice.com/classroom-makeover now through the October 6th deadline. Voting will begin when the ten finalists are posted online on October 10th, and the winner will be announced the week of December 4th.
Haskell Office will give one deserving school classroom makeover complete with Ethos Chairs for your students and furniture for the teacher!
2nd place wins a new teacher's workstation, podium, and Echo Easel with Markerboards for their classroom!
Entry is simple.
You post a picture of your current classroom on our site.
We choose 10 finalists and put them on the web for a vote.
Finalists will be notified via email that they've been nominated.
Share your classroom and get votes from everyone you can!
The classroom with the most votes wins a new classroom furniture.