Sit to Stand Student and Teachers Desks
Haskell's unique sit to stand student desk is the right choice for today's active learning classroom. Our 20 year warranty on the height adjustable column insures years of uninterrupted use in the classroom promoting a healthier learning environment while fostering greater student engagement.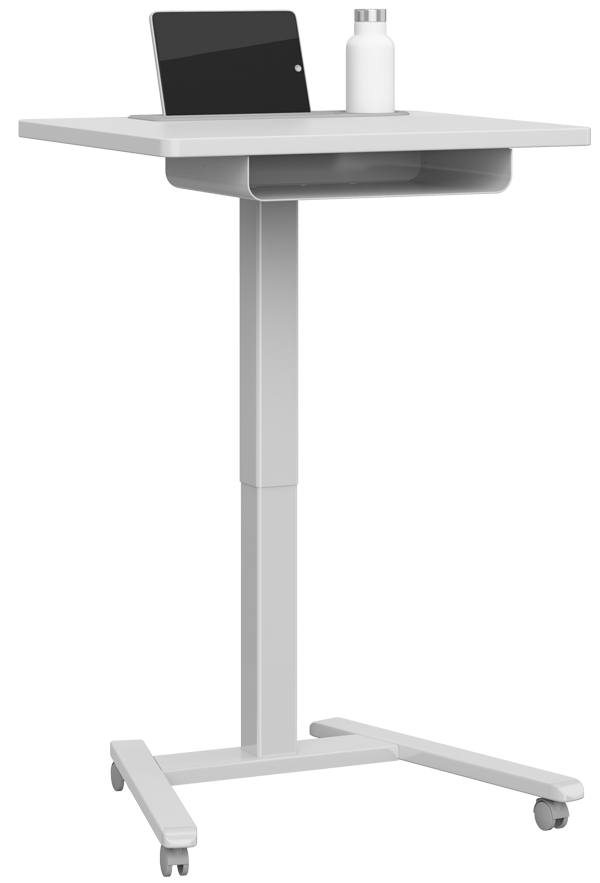 Whether sitting in a chair or standing, nothing gets in your way for maximum comfort. The FuZion has two east/west bars and north/south bars for strength and stability.
While many sit to stand desks bounce and are springy (causing the product to wear down after just a few years), our Hydraulic SureLock Construction prevents bounce and slippage of the height adjust.

The addition of an easy grip handle for raising and lowering the sit to stand desk makes height adjustment simple and fast.
The FuZion Sit to Stand Desk offers a large laptop storage area under the work surface.

A multi-purpose storage area on the top of the desk helps you maximize your work area and securely hold your tablet for viewing videos or reading.
The water bottle holder helps keep your classroom organized and minimize spills on the floor and on technology while not sacrificing work space.
CONTACT ME ABOUT FUZION SIT TO STAND
To learn more about FuZion Sit to Stand Desks, and other Haskell solutions for education, please complete the form. If you wish to speak with our sales team now, please call 1-800-334-8888.