Versatile Solutions for the 21st Century Classroom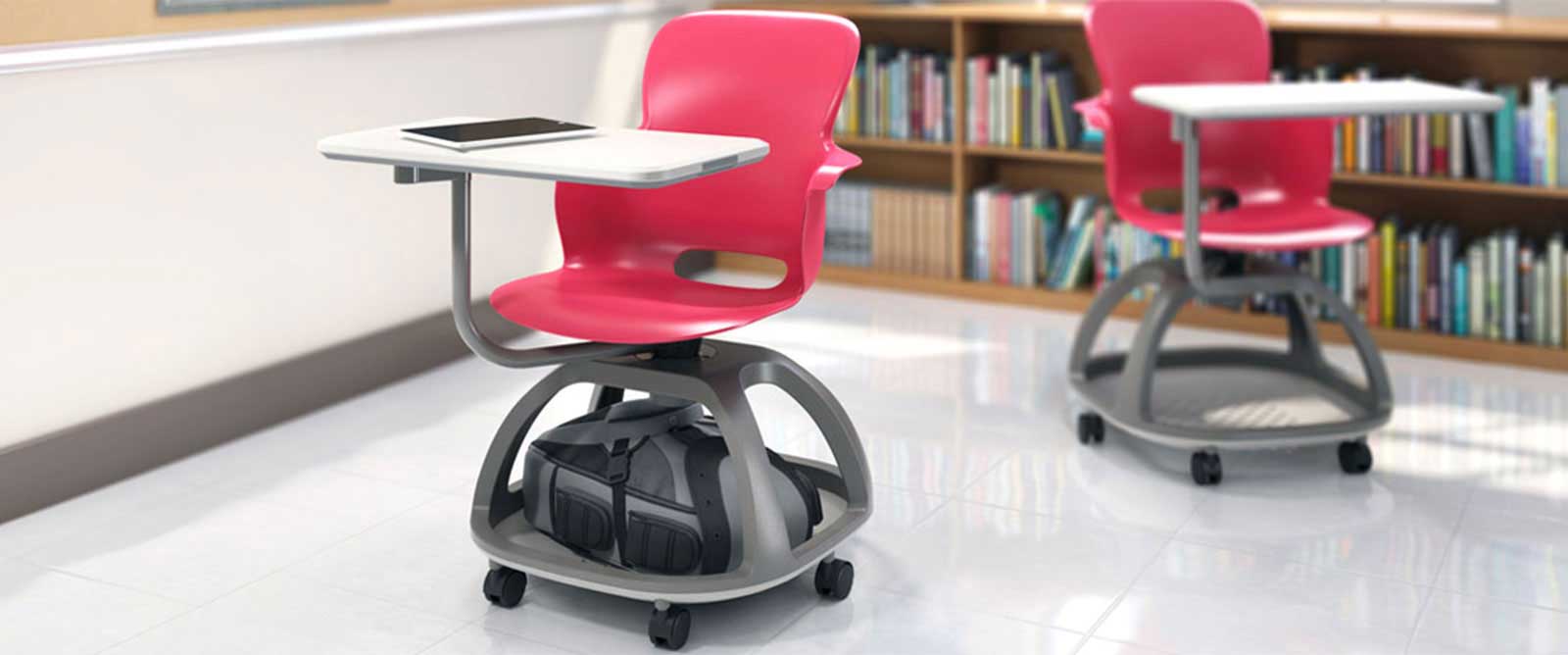 Versatile Solutions for the 21st Century Classroom
See how the West Street School is embracing the future
21st Century Learning Means Better Student Outcomes
Haskell provides furniture solutions for K-12 schools, colleges and universities that help remove barriers to learning. We strive to understand how our active classroom solutions can help students learn in the way that best suits their learning style. Our goal is to partner with educators to help them achieve student success in today's ever-changing, technology-driven world.
More than a chair, Ethos doubles as an active learning platform for twenty-first century students. Built with an agile quad base and a classic seat shell, Ethos blends flexibility (like 360-degree swiveling capability and an ambidextrous tablet arm) with mobility and personal storage. Haskell's seating design anticipates the needs of today's vibrant classroom—a classroom that transitions seamlessly from lectures to discussions and interactive groups.
The future of education takes shape with the ECHO Series of mobile, modular teacher desks, teaming tables and easels. This series is perfect for student-centered learning environments that require transformation into multiple postures—lectures, group work and private study or testing. And, with Haskell's quality construction and attention to detail, this series meets the rigors of K-12 and higher education and makes ECHO a perfect fit for the daily curriculum.
Haskell's Fuzion sit to stand is built to last and we guarantee it—our 20-year warranty is one of the best in the industry. While many sit to stand desks bounce and are springy (causing the product to wear down after just a few years), our Hydraulic SureLock Construction prevents bounce and slippage of the height adjust. And, our Unibody integrated construction at the surface mount provides greater strength and stability.
The Keys to an Active Classroom
The modern classroom has evolved in a variety of ways because of technological advancements. Lectures are certainly still an important piece of education, but so is group work where the teacher becomes the mentor. Haskell provides solutions that are produced with quality construction and an understanding of how students learn today.
There isn't one right solution. Your district, school, classroom or even project-based learning in a math or science room will determine your needs for technology and movement.
Movement is multi-layered.
How are we smoothly and efficiently transitioning from one style of learning to another?
When should the teacher be standing and when should they be sitting?
When should the students be standing and when should they be sitting?
Can students safely move around the classroom without risk of tripping over backpacks?
Haskell, is dedicated to designing and manufacturing the highest quality furniture for the public sector. Not sure what you need? We can help you envision your next-generation learning environment.
Check out our latest blog posts, news, products and videos and sign up to get our insights in your inbox.