Ethos 2.0
Update to the Ethos Product Line
The emerging category of flexible classroom seating is growing at a rapid pace. Haskell Education has been engaged in the production of our Ethos family of active learning seating products for over the last 5 years to meet the demand of the many schools who are converting classrooms from traditional learning styles to a more flexible, collaborative style of learning. We are proud of the fact that our family of seating has been placed in projects both nationally and internationally. Our multifunction Ethos chair can be found in classrooms from second grade through high school and in higher institutions of learning. Along the way, we have built relationships with many educators and we are constantly asking them for feedback on how we can improve all of our products….including our Ethos chair.
We are proud to announce the introduction of Ethos 2.0.
This updated version of our original Ethos chair demonstrates our commitment to this very important category of flexible seating. When a chair functions at its highest potential, the student and teacher have the opportunity to focus on what's most important….learning. With the feedback we have received from our education stakeholders, we have made the following enhancements to the Ethos seating line: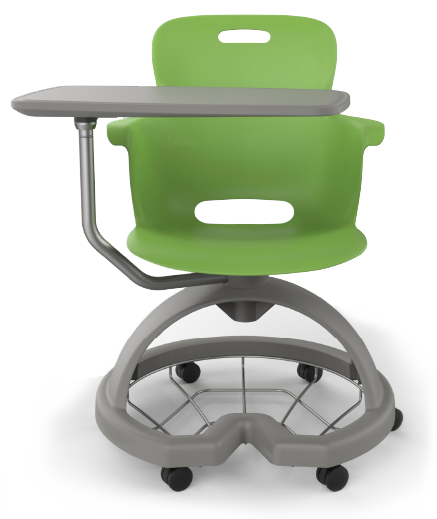 Updated work surface design that now includes a full pencil rim on all 4 edges of the surface.
The work surface, in addition to being able to fully articulate for both right and left handed users, will also now be able to telescope in and out from the user position for easier access, allowing more space and comfort.

The addition of an easy grip handle built into the back of the chair for better control when moving the chair.
A new plastic base design with a clean modern aesthetic, 360 degree swivel, and six casters ensures comfort and stability in the classroom.

We knew from our original base design how important having two large openings was for easy placement of large book bags. To that end, we designed our new base to enhance this feature actually widening the openings for even easier access and retrieval.
This optional water bottle holder helps keep your classroom organized and minimize spills on the floor and on technology while not sacrificing work space.
An optional tablet holder is available. (Note: By adding the tablet holder, the work surface becomes handed.)
The old perforated base pan design, which was a trash collector has been replaced with a new heavy duty wire pan that will easily support a book bag while allowing dust and debris to pass through to the floor for easier cleaning.

Ethos 2.0 offers a variety of colors to suit your school's colors and decor.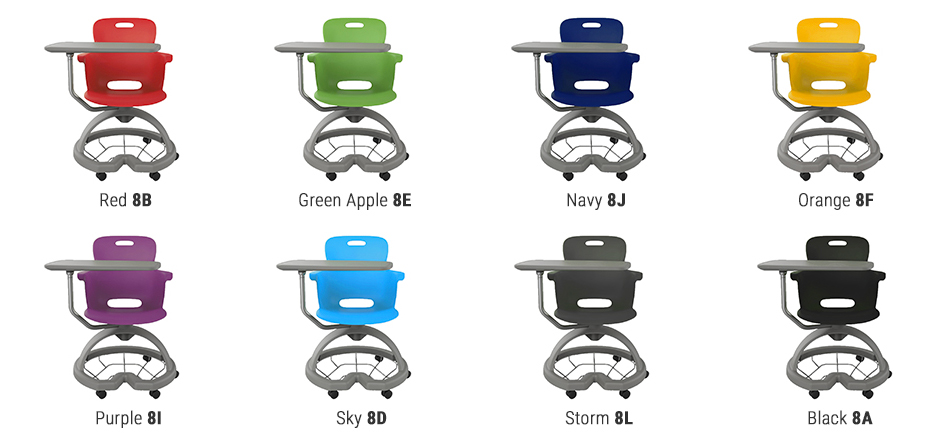 DOWLOAD THE ETHOS POSTCARD
Download this handy postcard that showcases the full line of Ethos seating  solutions.
CONTACT ME ABOUT ETHOS 2.0
To learn more about Ethos 2.0, and other Haskell solutions for education, please complete the form. If you wish to speak with our sales team now, please call 1-800-334-8888.