The Market Series fills filing needs fast. Available in a limited palette of the most popular finishes and options for the quickest turnaround times, the complete line of storage solutions (lateral files, vertical files, towers and pedestals) comes with Haskell's quality manufacturing and materials made for the most demanding offices and workspaces.
Perfect for corporate hiring waves and rapid build outs, the Market Series of filing solutions— in conjunction with the Market Series of desking solutions—offer convenience for designers who need to complete uncompromising projects quickly.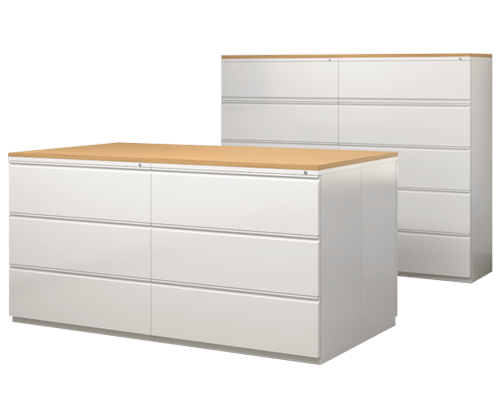 When Time is of the Essence
The Market Series of filing and storage and its complementary series of desking solutions simplify the selection process and speed time of delivery.
Solid, powder-coated steel construction
Quick turnaround times
Modern and durable
With the same, sharp look and durability as other Haskell products, the Market Series makes adding quality to a project quick and convenient.
To learn more about this and other Haskell solutions, please complete the form. If you wish to speak with our sales team now, please call 1-800-334-8888.